Our holistic Person Centered, Community integrated model of care is an award winning and internationally recognized model of care.
Traditionally home care assessment, planning and care delivery have focused on deficits and incapacities with little attention paid to the person and their social and emotional needs. In many institutional environments, as well as in much care in the community, this remains the focus. At Mosaic, no-one is defined by what they cannot do or their medical conditions. The person comes first!
Mosaic was set up in 2010 to provide care focused on the person and their place in the community. We have been implementing a structured person-centered care approach since 2014 and have developed clear processes, training and culture for all our staff – this includes our Personal Support Workers, Nurses, Client Services and all our community and administrative staff.  Our work has been internationally recognised.
The Meaning of Me®
Our person centered care model extends from a person's social and emotional needs, through our The Meaning of Me®, to physical, cultural, social, cognitive and creative capacities as well as wider community and social network interaction. A person's own decisions and preferences regarding care needs and their medical conditions are also firmly part of our person-centered model.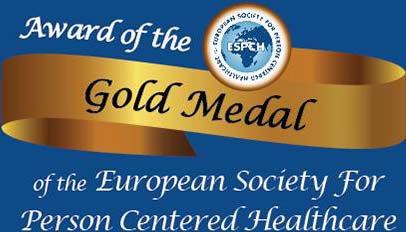 Award-Winning Home Care
The Gold Medal and its associated certificate are awarded in recognition of substantial contribution to the development of home and health care issues in the community.
Our person centered care is centered around the following key areas:
Treating you as an individual with a distinct identity, a history and a continuing need for personal growth and meaning from life. The centrepiece of this element of person centered care is our The Meaning of Me®. This meaningful conversation foundation provides a non-clinical approach to connecting with the person that allows us to identify interests and activities, social needs and to connect the person with their community and their social network.

With your input, assessing your capacities, your abilities, what you can do and how we can work together to support you in your day-to-day life. Your preferences and decisions are paramount and we build on this throughout our service provision.

Understanding your medical needs and conditions, and your own attitudes to your health so that we can be sensitive to these needs in providing care.

Treating all who interact with the person as persons themselves. Our caregivers, nurses and client services who interact with the person and family, are all persons, as are all other health professionals and service providers in the wider care team.

Oversight of all care interactions, the provision of advocacy and navigation and counselling to meet the wider set of person, care partner and family needs, both now and in the future.
Order of importance in our care provision
You the Person
Care Partners and family – PSW – Nurse – Oversight Team
Social – Emotional – Personal Growth – Connection – The Meaning of Me® – Community – Mental Health – End-of-Life
Abilities – Preferences – Cognition – Physical – Medical – Dementia – Parkinson's – Palliative and other health needs
Assessment – Care Planning – Personal Supports -Nursing – Oversight – Advance Care Planning – Client Liaison – Social Work – Counselling – Advocacy – Navigation
Community Resources – Social Programs – Memory Cafes – Hobby Groups – Social Network – Neighbourhood
Sign up for our newsletter