Our caring nature is a difference you will appreciate
Whatever the level of care and support you may need, having a home care worker come into your home can represent a significant intrusion into your daily life. It is a matter of professional trust and much more.
When you are looking for a home care solution or home care supports what are the most important things you should consider?
Are they qualified and vetted?

Are they immunized and vaccinated?

Are they cleared on their criminal and vulnerable sector check?

Are they supported and overseen by an experienced and professional team?

Do they respect your privacy, your personal preferences and your wishes?

Is the caregiver and the team sensitive to your continuing abilities, your life, and your social and emotional needs?
Our caregiver selection process
Mosaic takes the time to find out about our caregivers. We start with an initial interview process, over the phone, to pre-screen, followed by a detailed in-depth interview and assessment process that addresses skillsets, abilities, experience and person centered care attributes.
Prior to hiring, each potential employee receives:
a criminal background and vulnerable sector check,
health clearances (i.e. immunization record, TB test, proof of COVID-19 vaccination and more),
professional reference checks,
and are required to complete the core health and safety training modules and testing.
After hiring, each employee goes through a thorough orientation and follow the Mosaic's Standards of Excellence®. All Mosaic employees are:
bonded and insured,
insured for injury (WSIB),
given opportunities to participate in continuous learning
COVID and Infection Prevention and Control
We base our COVID protocols on best practices and research from around the world. We emphasise contact tracing, physical distancing, proper Personal Protective Equipment (PPE), and well documented procedures. We support our frontline staff with regular updates, documentation and videos. Personal protective equipment is provided to staff to keep our clients, families and frontline staff safe.
We also ask our staff to provide us with their proof of vaccination, including date, type and lot number. We do this to protect our vulnerable clients, families and communities. At Mosaic, we have a 100% vaccination rate and any potential employees are required to be fully vaccinated prior to hiring.
Personal Support Workers and Our Integrated Care Teams
At Mosaic we realise that care is complex and multi-faceted. Our caregivers need to be at the top of their game and to do this we need to be able to provide them with the necessary professional assessment, care planning, professional supports and oversight.
Our personal support workers, nurses and Mosaic Lifestyle Companions® are part of the Mosaic circle of care that includes our client services division staffed by our client services liaison, our nurses, social workers, care planning and care coordination professionals. All work together and in the best interests of our clients.
Our caregivers are part of a wider holistic, person centered, integrated care approach. This is our culture. It runs through our entire home care organization.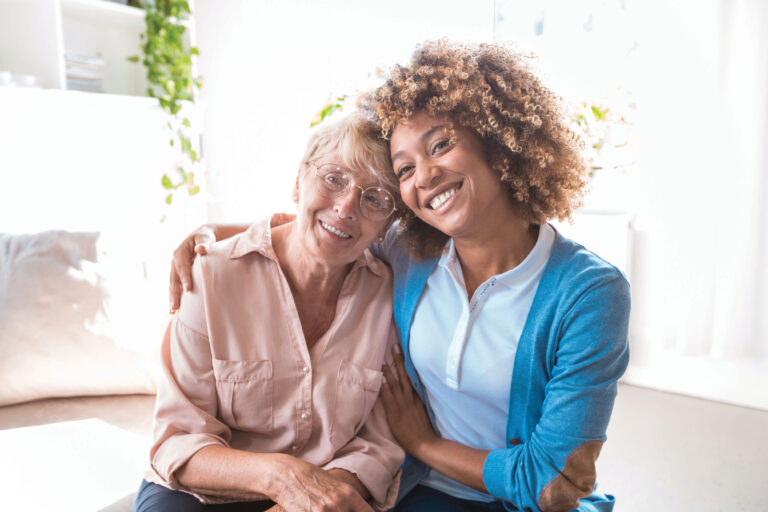 Personal Support Workers as Persons
Our frontline teams are more than just employees. They are first and foremost persons of meaning and being. Their empathy, their social and emotional needs, their interests and hobbies, as well as their experience and critical professional skillsets, are the building blocks of person centered care.
Please feel free to read some Mosaic's articles on PSWs, their position at the Centre of Care and the importance of our communities in meeting care needs.
Our Training and Care Standards
Once hired our front-line staff will go through an in-depth orientation process where we spend time in teaching them about our Mosaic Standards and processes and our Mosaic Home Care Person Centered Care The Meaning of Me® approach to care. Each of our caregivers receive ongoing health and safety training and educational opportunities to keep up with changes in the industry with regards to research, videos, training on-line on such topics but not limited to: Alzheimer's & Dementia, Palliative, End-of-life care, Parkinson's, mental health and serious illness.
Mosaic also train and certify our caregivers in our The Meaning of Me® framework and out dedicated Client Services Liaison works with clients and caregivers to develop activities and interests.
More than just Home Care
Our caregivers go beyond the usual tasks to engage with a person's social and emotional needs and their relationships with the community. Research shows that older people want their home care to meet their social and emotional needs, that they want to continue to engage with life and wish to have physical contact with nature irrespective.
We agree: We believe that educating our personal support workers and staff in training on person centered care in knowing the person, engaging in meaningful conversation, recollection, interests and activities and community, where possible, is important to physical and mental wellbeing.
"The person matters at mosaic – we are more than just home care"
Sign up for our newsletter