2010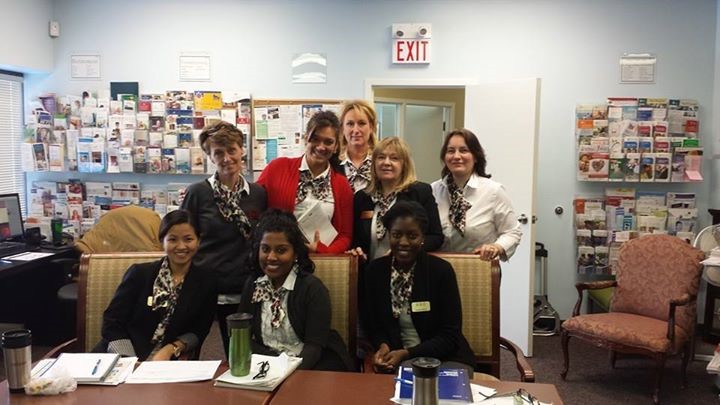 Mosaic Home Care & Community Resource Centre is founded by women with a passionate vision to bring no ordinary home care, support and resources to families in our community. Jane Teasdale, Nathalie Anderson, our highly trained and qualified caregivers and entire team make a positive difference in the lives of the people in their care. The resource centre is a place for the community to come together and find information on health and other services available in the community.
Office and resource centre space is taken up in The Shops on Steeles & 404.
Mosaic is presented with a plaque by Markham's Mayor Frank Scarpitti during the open house.
Partnerships and memberships with other organizations from the beginning and earlier than the founding date in some cases:
North York Elder Abuse Network (NYEAN), which provides education and awareness of elder abuse for the community and workshops for healthcare professionals.
The Integrated Partnership for Seniors (TIPS). TIPS is a venture between non-profit agencies and for-profit companies operating in the elderly and homecare services industry to provide awareness and education of services available in the community.
Ontario Society of Senior Citizens Organizations (OSSCO).
Ontario Homecare Association (OHCA). Now known as Home Care Ontario. A membership-based organization striving to be 'the voice of home care in Ontario™'.
2011
Mosaic is recognized and honoured by St. John's Rehabilitation (now known as SJRH St. John's Rehab at Sunnybrook) with a plaque for contributions in the development of their resource area.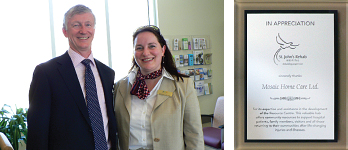 Mosaic Home Care is voted "Best in Home Care" for two years in a row, winning silver in 2011 and gold in 2012.
Mosaic is a member of the Markham Board of Trade.
2012
Jane Teasdale and Nathalie Anderson are honoured and featured in the Distinctive Women magazine in 2012 and again in 2013.
Distinctive Women is a magazine that spotlights business women in the community from a vast range of industries who have accomplished unique triumphs of success in their field. It is Nathalie and Jane's vision of a unique and community-based home care business that made them an obvious choice for the magazine.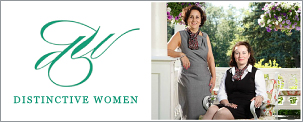 2013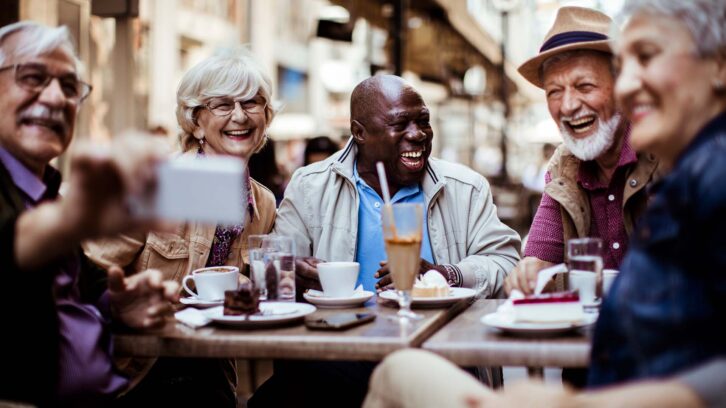 First Link® Memory Café a six-month pilot project starts (and is so successful that as of 2021 it continues), as does the partnership between Alzheimer Society of York Region and Mosaic.
This is a program originally developed in Europe where people diagnosed with early Alzheimer's disease and/or early stages of dementia. Their care providers can come and socialize, share experiences in a relaxed café style environment. Staff from the Alzheimer Society and social workers are present to provide support, guidance and to answer any questions. The purpose of the Memory Café is to reduce the stigma surrounding dementia by providing education, guest speakers and open discussions related to Alzheimer's and dementia.
Mosaic opens a 2nd office and resource centre in the CNIB in midtown Toronto and updates logo and name to a plural form, now reading: "Mosaic Home Care & Community Resource Centres".
2014
Mosaic develops a framework and model of person-centred care and trademarked as Mosaic's The Meaning of Me®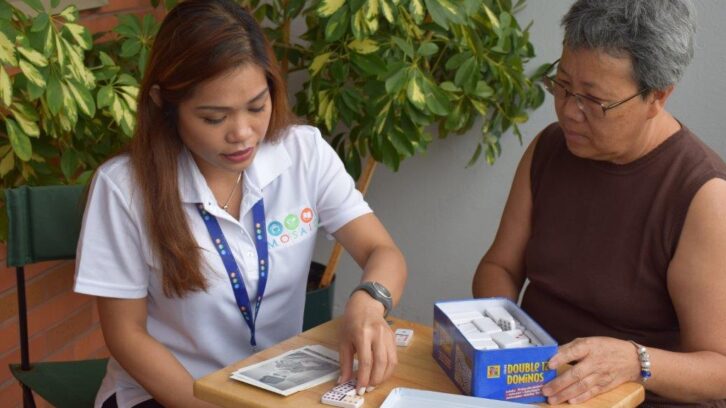 Mosaic's Elder Care Plus® framework is developed and trademarked.
Mosaic's PSW Plus® is developed and trademarked. Those on the front-line team that qualify under the program are promoted as PSW II.
PSW: Personal Support Worker
Mosaic Home Care hosts a Downton Abbey Event at Ladies Golf Club of Toronto.  All money raised was donated to Pat's Place (Family Service Toronto) which is a temporary safe haven for older people experiencing abuse.
2015
Partnership with Shepperd Village.
More information available: https://shepherdvillage.org/home-care/
2016
Mosaic acquires Liz Gray Compassionate Care Inc.
2017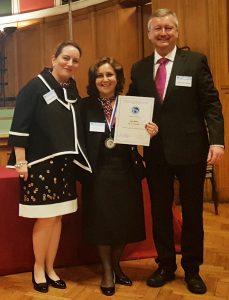 Mosaic recognized internationally with a Gold Award by the ESPCH* for the development of the person-centred care model and framework.
*ESPCH: European Society for Person Centred Healthcare
Partnership with Evergreen Hospice.

2018
Mosaic is published. "The Meaning of Me®: A Canadian blue print for addressing the complex whole that is the person at the centre of the community based homecare service model" paper is published in the EJPCH* journal.
*EJPCH: European Journal for Person Centered Healthcare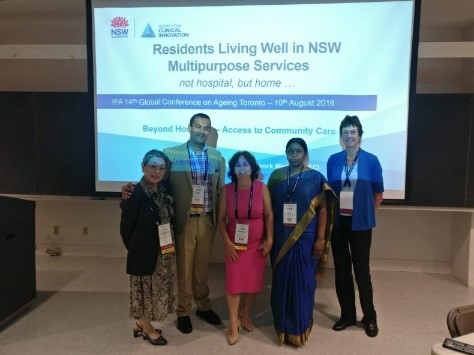 Mosaic invited as a keynote speaker at the International Federal on Ageing (IFA) to present on Mosaic's model of person-centred care.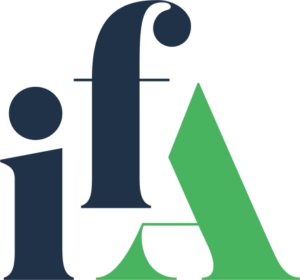 Mosaic starts Community Mapping and Social Engagement project and focus groups established.
Mosaic becomes a member of the Ontario Caregiver Coalition.
Caring Compassionate Communities movement is developed with Evergreen Hospice and community agencies.
2019
Mosaic invited to attend and participate in the Accountability Table meetings to develop the Ageing Strategy in Toronto.
2020
A worldwide COVID-19 pandemic hit. Mosaic is quick to develop protocol framework to better safeguard the team in office and front-line, as well as the families under Mosaic's care.
Mosaic office staff work from home, starting mid-March.
Community events are moved to an online environment to ensure physical distancing and safe practices are maintained, while balancing the needs of those in the community.
The 2nd office location and community resource centre moved to Armour Heights church and a community focused partnership continues.
Mosaic celebrates 10 years! (virtual environment)
2021
Mosaic reintroduces Elder Care Plus® and formally implements social work, family counseling and navigation to its service offering.
Mosaic becomes a member of the IFA (International Federation on Ageing) and presents at the 15th Global Conference on Aging "Rights Matter", held in Niagara Falls Canada.
Presentation:  Addressing the domains of home and community care within an empathic model of person to person and environment interaction.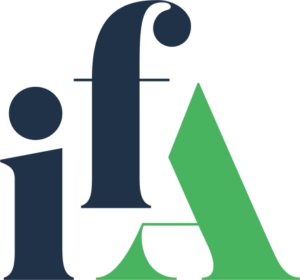 Mosaic recognized by North York Elder Abuse Network (NYEAN) for years of dedicated work.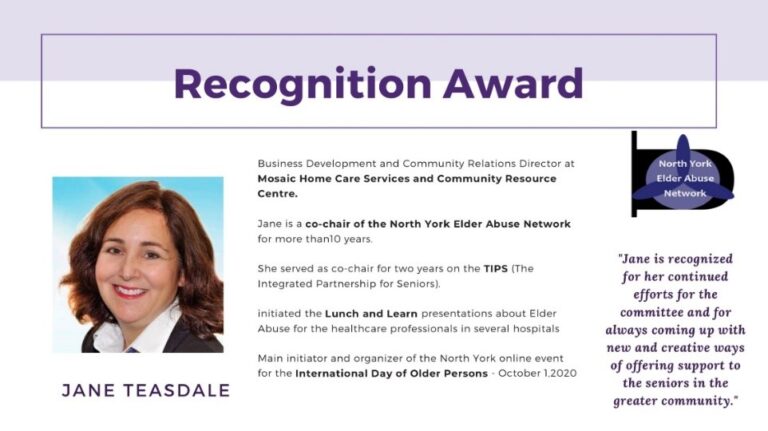 Mosaic's Community Life Podcast is launched.