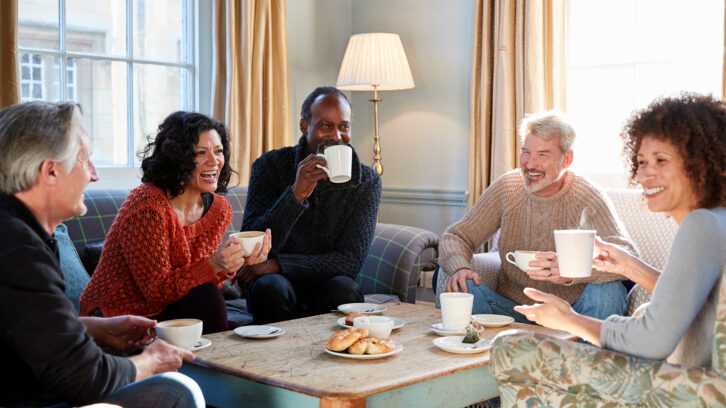 MOSAIC'S MEMORY CAFE IN-PERSON – INTERACTIVE DRUMMING CIRCLE WITH TERRI SEGAL
October 25, 2022
1:00pm – 2:00pm
Armour Heights Presbyterian Church
105 Wilson Ave, Toronto, ON
M5M 2Z9
Join Mosaic Home Care for our Mosaic's Memory Cafe held the last Tuesday of every month except December either online or in-person. This program is for those with memory and cognitive issues and their family carers or personal support workers. We have a number of interesting speakers and activities that make our cafe a place to look forward to and to connect with others.
The Mosaic's Memory Cafe Program is an open free service and does not require a formal referral or assessment to participate. Programs online and in-person include educational sessions from community organizations and professionals, discussion topics and activities, with a focus on creative arts (music, movement, art and meaningful discussions and activities), interesting hobbies and hands-on workshops.
Interactive Drumming Circle with Terri Segal:
Engage in collaborative and fun rhythm-based activities with Terri Segal, an Expressive Arts Therapist, Facilitator and Educator.
Date: Tuesday October 25th, 2022
Time: 1:00 p.m. to 2:00 p.m.
Place: Mosaic's Resource Centre at Armour Heights Presbyterian Church
Refreshments Provided by The Sumach by Chartwell Retirement
105 Wilson Avenue (free parking on Saunders Street at the front of the Church), close to York Mills Station (Wilson West bus).
To register fill out the registration provide below to register. For more questions contact Lauren at lauren@mosaichomecare.com
Event Registration
For more information or to register, please call our offices at 416-322-7002 or complete the form below.