Thornhill's better care
Mosaic building blocks to better home care.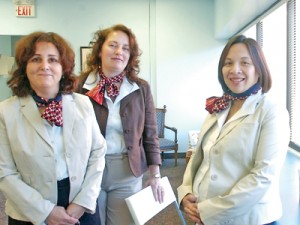 Jane Teasdale, business development and community relations; Nathalie Anderson, director of operations; and Mercedes Santos, human resources and client relations at Mosaic, a resource centre opening to link up with at home care options and other community services for residents of all ages. Staff Photo/Steve Somerville
They are three women who say they are striving to put the heart back into the home care industry. Within their one business, they hope to help and link many.
Their company is called Mosaic Home Care Service & Community Resource Centre and true to their approach in establishing a comfortable space and one-stop resource option for southern York Region, Jane Teasdale, Mercedes Santos and Nathalie Anderson are Mosaic's three personable pieces.
"We want this to be a place where someone can sit, have a coffee and speak to us about linking them with a care giver or information in a necessary care area," remarked Ms Teasdale, Mosaic's business development representative, explaining the daily happenings soon to begin at their new offices within the Shops on Steeles Plaza.
"Our focus is on providing home care, but we are also here to provide information or support in other areas. Anything from anxiety and Alzheimer's to senior travel tips," added Ms Teasdale, mentioning that currently Mosaic has links to 150 different care organizations in the area, while also offering their own trained care givers and support.
A private enterprise, the women admit while government run and non-profit home care organizations are their competition, by no means is Mosaic against the idea of individuals seeking those options.
They encourage individuals to use the provincially-run Community Care Access Centre as a first stop resource. Simply put, the trio are confident there is enough of a demand to go around, while also being able to offer other services and a level of care some may not find via the government.
"Such is the number of people reaching the age where they may need daily care, companies like us and the government are going to have to begin working together so we can handle the aging population," said Ms Anderson, Mosaic director of operations.
"Also, based on my own previous experience, government agencies will often only refer you to other non-profit organizations. Because of this, that individual may be missing out on an a private organization providing the care they need," she added.
While actual home services will come along with an hourly rate; dropping by for a chat, coffee, attaining information from one of the ladies or guest speaker regarding a certain topic, is all free of charge.
"After hearing about and seeing for yourself the plight of those who are most vulnerable, you feel more determined to give these wonderful souls the best help that you can provide," said Ms Santos, a Thornhill resident and Mosaic human resources and client service representative.
"Fact is, I think we need more places like this and if we can be successful and visible in the community, hopefully it can lead to others receiving that care that they require," she added.
Fully embracing their position in the southern York Region community, services offered through Mosaic will be offered in a variety of languages, including French, Mandarin, Cantonese, Italian and Farsi.
If you are curious about Mosaic's services, the women will be staging an Alzheimer's Society coffee break in the centre court of Shops on Steeles Thursday, Sept. 16, from 11 a.m. to 3 p.m.
Mosaic's offices officially open Monday, Sept. 20. Office hours Monday to Friday will be 9 a.m. to 5 p.m. and Saturday from 10 a.m. to 2 p.m.
For more information call 905-597-7000, visit 2900 Steeles Ave. E., suite 215, in Thornhill or visit mosaichomecare.com