Social Prescribing: A Holistic Approach to Healthcare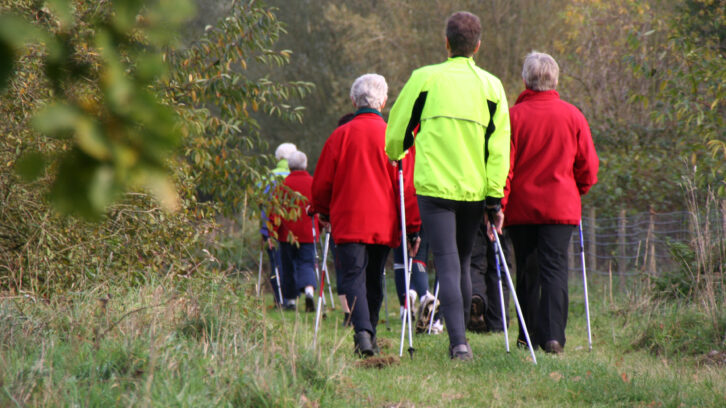 What is it?
 Social Prescribing is a holistic approach to healthcare that brings together the social and medical models of health and wellness. It provides a formal pathway for health providers to address the diverse determinants of health, using the familiar and trusted process of writing a prescription.
Social Prescribing bridges the gap between clinical and social care by referring patients to local, non-clinical services that are chosen according to the individual's interests, goals, and gifts. It allows doctors, nurse practitioners, and interprofessional health providers to formally refer patients to community-based programs. It empowers the individual to improve their health by developing new skills, participate in meaningful activities, and become more connected to their communities. A social prescription can include participating in an exercise group, receiving a healthy meal, taking an art or dance class, joining a bereavement network or community garden, exploring a local hiking trail with a group of peers, and much more.
Successfully implementing a Social Prescribing program means removing the barriers people experience to doing these things. These barriers may be economic, geographical, interpersonal, or psychological. Social Prescribing is about listening deeply, providing necessary supports, and empowering people to be co-creators in improving their own health and wellbeing.
History
The Social Prescribing movement and similar approaches began in the United Kingdom in the late '90s and has since become a key component of the UK National Health Service long-term strategy. The evidence demonstrated strong potential to improve individual wellbeing as well as ease the load on the healthcare system. Since then, Social Prescribing has become a global movement gaining momentum throughout Australia, New Zealand, Europe, and North America.
Why is it important
Evidence shows that as much as 80-90% of our health outcomes are driven by social determinants of health (Magnan 2017). For a person to thrive in health and wellbeing, they must have access not only to appropriate clinical care and material supports, but also to meaningful social support and a community where they feel they belong. Statistics suggest that 20% of patients consult their GP for what is primarily a social problem (Torjese, 2016). Some of the key issues that seniors are facing are depression, loneliness, and isolation. Loneliness and social isolation have been described as major health threats, suggesting that "people with a weak sense of community belonging are more likely to be in the top five per cent of users of health care services; this 5 percent accounts for more than 50 percent of total health care spending… Costs that could be reduced if these individuals were part of connected communities" (Ontario's Chief Medical Officer of Health).
According to a 2016 Social Prescribing Network Report, Social Prescribing has been found to:
Reduce isolation
Improve mental health, resiliency, self-esteem, and quality of life
Create community resilience and nurture community assets
Create stronger connections between systems
Reduce frequent primary care use
Enhance social infrastructure
Reach marginalized groups
Glimpse into SP in Canada
Social Prescribing is increasingly recognized as the next step in improving and better integrating healthy systems in Canada. Social Prescribing frameworks have been adopted in Canada and are being implemented in various provinces including British Columbia, Alberta, and Ontario. These three provinces are working collaboratively in their effort and have formed the Canadian Social Prescribing Community of Practice. Within this Community of Practice there a focus on learning, sharing, and building knowledge and creating systems and programs that will be sustainable overtime.
If you would like to know more about Social Prescribing in Canada, or would like to be involved in advancing this movement, please contact Kahirl@uwbc.ca and we will be happy to direct you to right partners closest to you.
About United Way British Columbia – working with communities in BC's Interior, Lower Mainland and Central & Northern Vancouver Island
United Way supports healthy, caring and inclusive communities by strengthening vital connections that support people in need. Representing the six regions of Central and Northern Vancouver Island, East Kootenay, Lower Mainland, Southern Interior, Thompson Nicola Cariboo, and Trail and District, our organization serves a population of more than 4 million people, with a focus on kids and youth, seniors, poverty, mental health and food security.
www.uwbc.ca
About Kahir Lalji
Kahir Lalji is a community champion and non-profit leader. Inspired by caring for his grandparents, Kahir dedicated the last 15+ years of his life to supporting the quality of life of older adults – always attempting to ensure the representation of traditionally underserved populations. He is the Provincial Director, Government Relations & Programs with the United Way British Columbia – working with communities in BC's Interior, Lower Mainland and Central & Northern Vancouver Island and was the Executive Director of the United Way Southern Interior BC.
Kahir is a Gerontologist with a Masters of Gerontology from Simon Fraser University, and also has a fellowship in developmental leadership and evaluation. He is on the Advisory Board of Aging 2.0, the President of the Board of Directors for British Columbia Original Minds Association. Kahir also serves on the Board of Directors for HelpAge Canada and BC211 and is a Member on the Aga Khan Health Board for Canada.
Kahir will be featured on Mosaic's Life in Canada Podcast on February 4th, 2022, his interview can be found by subscribing to our podcast at:
Google: https://podcasts.google.com/feed/aHR0cHM6Ly9hbmNob3IuZm0vcy81NWJiZmQyOC9wb2RjYXN0L3Jzcw==
Apple: https://podcasts.apple.com/us/podcast/mosaics-community-life-podcast/id1564979634
Content provided by:
Kahir Lalji, M.A., CPG
Provincial Director, Govt. Relations & Prog., Population Health
United Way British Columbia